BAUHAUS BRASIL/
BAUHAUS BRAZIL
Cartaz e identidade visual para o lançamento do 30º Concurso Projetar.org
Poster and visual identity for the 30th competition by Projetar.org
O 30º Concurso de Ideias em Arquitetura foi a primeira competição internacional do portal de concursos e homenageou o centenário da Bauhaus que foi comemorado em 2019. 
A proposta deste concurso, projetar um campus da Bauhaus no Brasil anexo ao MAM no Rio de Janeiro, pressupõe inúmeras interseções: entre tempo e espaço, legado e futuro, história e projeto. Por isso, fomos buscar referências na história do design, em especial nos pontos onde ela se relaciona com a história da arquitetura e dos primórdios do ensino de design de produto no Brasil, para compor uma narrativa visual que servisse para instigar a curiosidade dos estudantes sobre essa história e enriquecer suas referências para desenvolvimento do projeto.
A identidade visual do cartaz do Concurso 030 foi inspirada na obra "Upward (1926)" de Josef Albers. Partindo do intercruzamento das linhas deste quadro, criamos interseções também entre as palavras "Bauhaus" e "Brasil", utilizando uma das fontes criadas pela Adobe "Dessau Hidden Treasures".

The 30th ideas competition was the first international competition by Projetar.org and paid an homage to Bauhaus´ centenary, which was celebrated in 2019.
The proposal for this competition, to design a Bauhaus campus in Brazil annexed to MAM in Rio de Janeiro, presuppose countless interactions: between time and space, legacy and future, history and project. Therefore, we searched for references on the history of design, specially on the points where it intersects with the history of architecture on the beginning of the teaching of product design in Brazil, to compose a visual narrative that would serve to instigate the curiosity of students about this history and enrich its references when developing their projects.
The visual identity of the poster was inspired on the work "Upward (1926)" by Joseph Albers.  From interconnecting the lines in this painting, we created intersections between the words "Bauhaus" and "Brasil", using one of the fonts created by Adobe "Dessau Hidden Treasures".
TEASERS
Para criar expectativa sobre o concurso antes de revelar o tema, uma série de teasers para uso no Instagram foi criada. Assim como o cartaz do concurso que seria lançado na sequência foi inspirado em uma obra de Josef Albers, cada teaser foi baseado em uma diferente peça de design relacionada a um momento ou fato histórico relevante no contexto do concurso.
As peças foram escolhidas de modo que a sequência de teasers ajudasse a traçar uma linha do tempo da história das relações entre a Bauhaus e o Brasil por meio de peças emblemáticas da história do design, preparando, assim, os participantes para o conteúdo apresentado no edital do concurso.

To create expectations about the competition before revealing it theme, a series of teasers made for Instagram were created. As the poster, that would be released afterwards, was inspired by the work of Joseph Albers, each teaser was based in a different piece of design related to a moment or relevant historical fact on the context of the competition.
All pieces were chosen in a way that the sequence of the teaser would help to trace a timeline of the history of the relations between Bauhaus and Brazil, using emblematic pieces of the history of design, preparing the participants for the content that would be presented on the competition brief.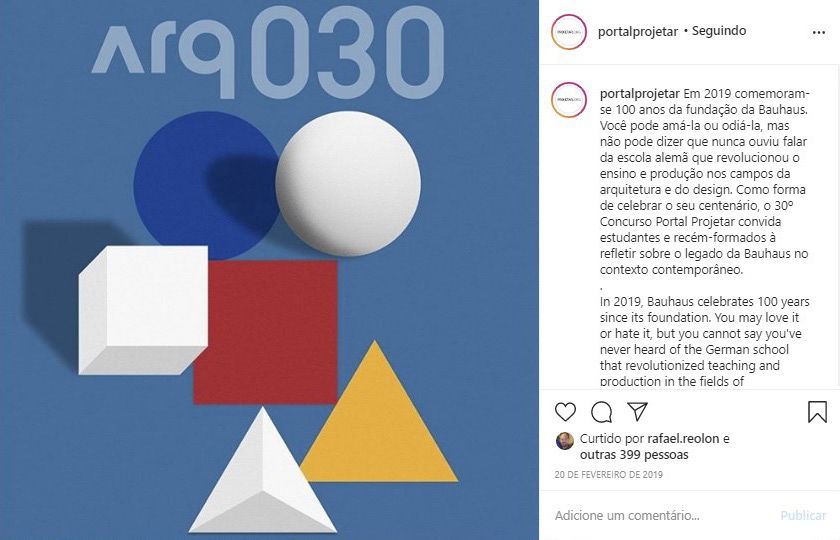 FICHA TÉCNICA
Direção de criação e design: Laila Rotter Schmidt
Coordenação do concurso: Caio Smolarek Dias
Fotos: Rodrigo Vieira